---
FREE & FAST Delivery
Easy Extended 30 Day Returns
FREE & FAST Delivery
Description
Your Knees Are Important And Need To Be Protected!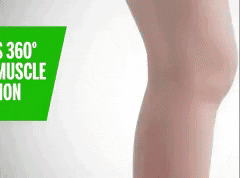 Recent studies conclude that just walking on the ground causes our knees to bear a load that is 3-5 times heavier than our actual weight. An extended hike may be overwhelming, particularly to specific age groups or those who suffer from chronic knee pain.
Use of this MasPro™ 3D Adjustable Knee Compression Sleeve provides better protection while tremendously reducing pressure and strain on your knee and meniscus caused by your weight.
High-Quality Material: It contains 68% nylon and 32% spandex. The unique design is lightweight and breathable. The adjustable comfort fit with its 4-way elastic stretch will not roll, slide, or slip, which enhances circulation and oxygenation of the blood. It increases muscle performance and accelerates the recovery of injured muscles and joints.
Relieves Pain, Encourages Muscle And Joint Recovery: It is a proven fact that compression promotes muscle recovery and prevents injury. It relieves muscle stiffness and soreness. It also offers relief from arthritis, osteoporosis, tendinitis, pain, and discomfort in general. It allows you peak performance in all situations and leaves you feeling rejuvenated.
Unique Adjustable Bi-Directional Support: It is crafted with exclusive 3D weaving technology and is made of high elastic soft fabric which can be adjusted to fit any knee size and provides a 360-degree protective cover for your knee.
Multi-Purpose Benefits: It is, by far, the best knee sleeve and knee stabilizer that you can use while running, jogging, cycling, squatting, weightlifting, or performing in virtually any athletic or exercise activity! It delivers targeted compression while providing moderate support for your knee.

It is designed to protect knees while promoting faster recovery and improved muscular endurance. Our goal is to ensure that this product will support you and keep you on your feet long as you venture out on your fitness journey.
---
🚚 Note: Due to high demand, please allow 10-15 business days for delivery.
Many times, your items will arrive earlier! We send all our packages with a tracking number, so you will be able to check it every step of the way!